Cypress Disinfectant Products
DISINFECTANT MECHANISM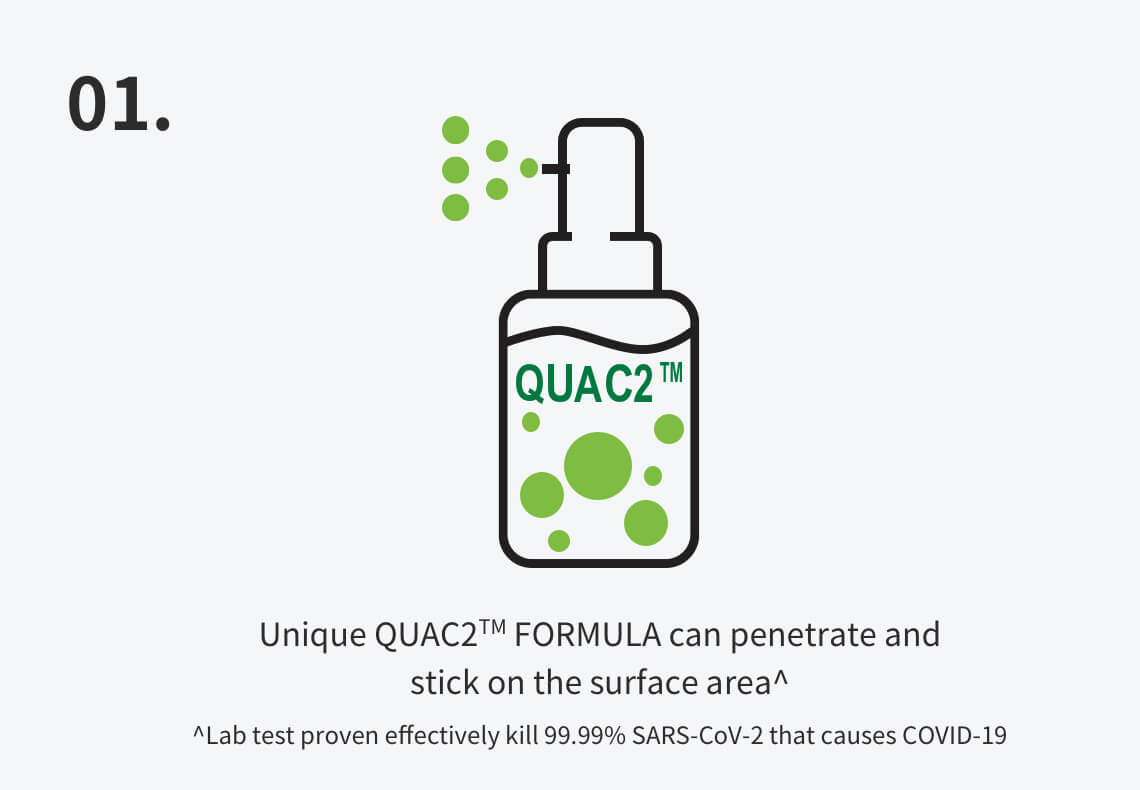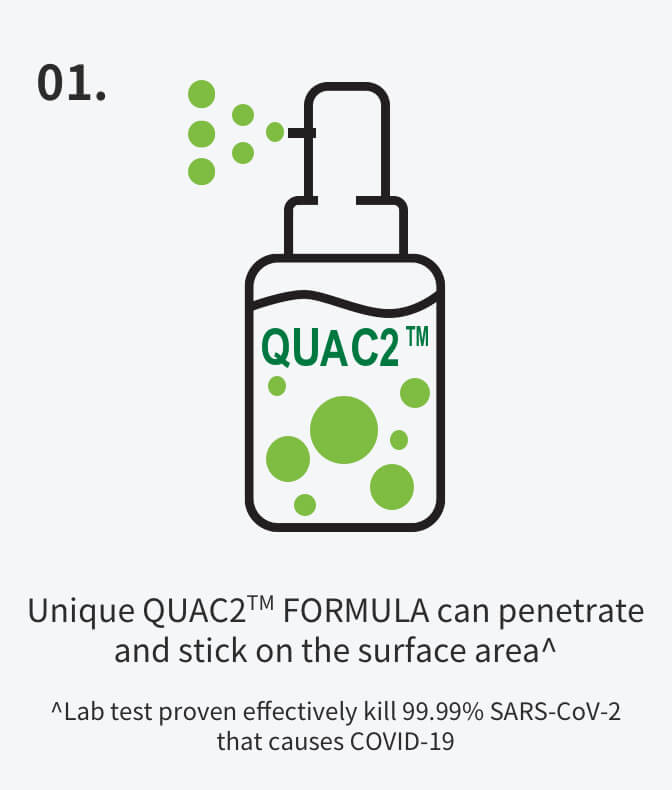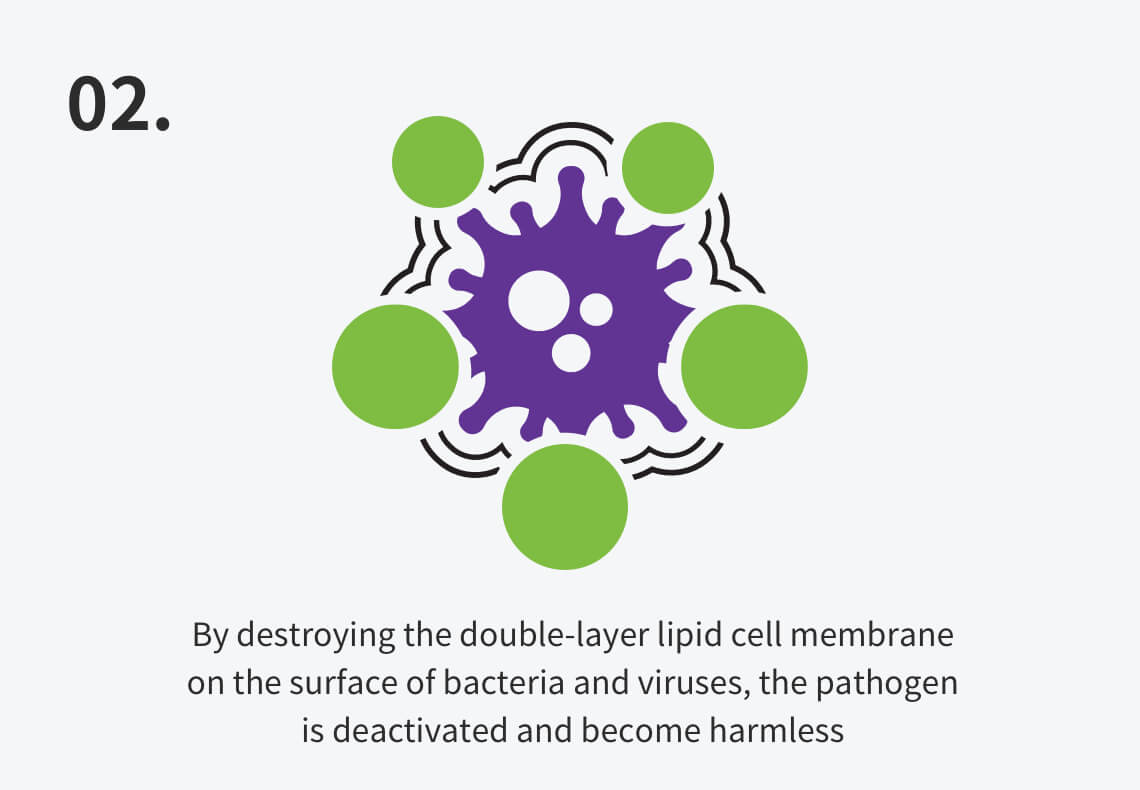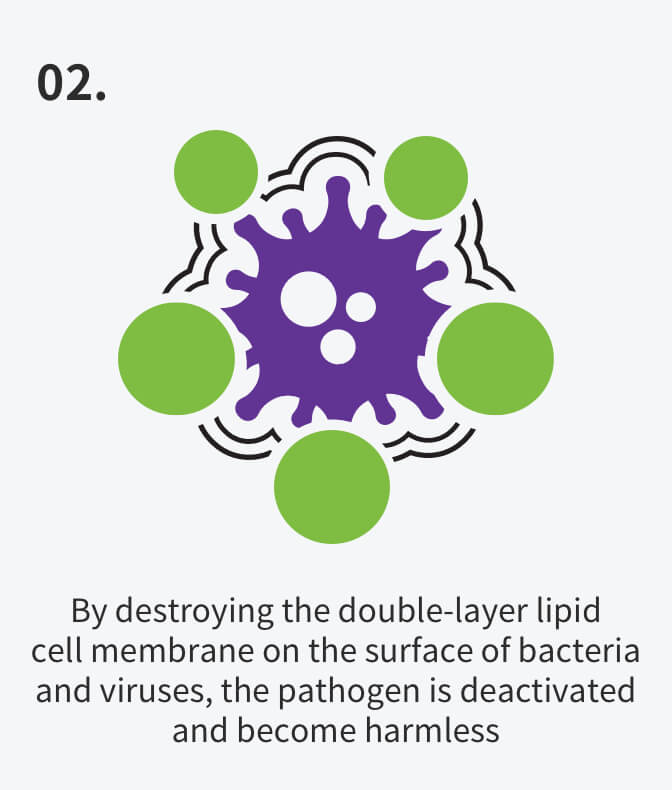 Owing to the active ingredient Benzalkonium chloride in its QUAC2TM formula, Cypress Bio-Tech disinfectant series is able to target at viruses and bacteria, and to destroy the double-layer lipid cell membrane on their surfaces. The pathogen, as a result, is deactivated and rendered harmless. Laboratory results show that, within 30 seconds, the product could effectively kill 99.99% of SARS-CoV-2 that causes COVID-19, as well as other common bacteria and viruses.

The unique QUAC2TM formula is incorporated with wetting technology, aiming to balance the surface tension between the product and the treated surface. It results in maximized penetrating effectiveness, thus allowing the product to securely and firmly adhere to skin or object surface. One application of the product could provide up to 12-hour antiviral and antibacterial protection.
DISTRIBUTION POINT
Products at distributors may be different. Please contact the relevant distributors for the products and stocks.
CRCare
District
Address
Open Hours
Sai Ying Pun
36 Centre St, Sai Ying Pun
9:00 - 19:30
Sheung Shui
Shop 2053, L2, Sheung Shui Centre, Sheung Shui
10:00 - 19:30
Sheung Shui
Shop 206, 2/F, Sheung Shui Spot, 48 Lung Sum Ave, Sheung Shui
10:00 - 19:00
Sheung Shui
Shop 30, 3/F, Choi Yuen Plaza, 8 Choi Yuen Rd, Sheung Shui
10:00 - 19:30
Sheung Shui
Shop 410, 4/F, Landmark North, 39 Lung Sum Ave, Sheung Shui
10:00 - 19:00
Sheung Wan
Shop 317, 3/F, Shun Tak Centre, 200 Connaught Rd Central, Sheung Wan
10:00 - 19:00
Central
G/F, Hung Tak Building, 106 Des Voeuz Rd Central, Central
9:00 - 19:00
Kowloon City
Shop A005, Ching Long Shopping Centre Zone A, Kowloon City
10:00 - 19:30
Kowloon Bay
Shop 530, Telford Plaza, 33 Wai Yip St, Kowloon Bay
10:00 - 19:30
Jordan
Shop B, Foremost Building, 19-21 Jordan Rd, Jordan
10:00 - 19:00
Yuen Long
Foo Choy House, 45-49 Fau Tsoi St, Yuen Long
9:30 - 20:00
Yuen Long
Shop L112, Long Ping Commercial Centre, 1 Long Ping Rd, Yuen Long
9:30 - 19:30
Yuen Long
Yuk Sing Building, 15-19 Yu King Square, Yuen Long
9:30 - 19:30
Yuen Long
Shop A258, Yoho Mall, 8 Long Yat Rd, Yuen Long
10:00 - 19:30
Yuen Long
Kam Wah Building, 10-16 Tung Lok St, Yuen Long
10:00 - 19:00
Yuen Long
G07, Yuen Long Landmark, 115-127 Castle Peak Pd, Yuen Long
10:00 - 19:00
Yuen Long
100 Castle Peak Road (Yuen Long), Yuen Long
10:00 - 19:30
Yuen Long
Man Cheong Building, 239-247 Castle Peak Road (Yuen Long), Yuen Long
10:00 - 19:30
North Point
Shop L1C, Healthy Gardens, 560 King's Rd, North Point
10:00 - 19:30
North Point
Shop G8, Harbour North, 1 North Point Estate Ln, North Point
11:00 - 20:00
To Kwa Wan
73 Pak Tai Street, To Kwa Wan
10:00 - 19:30
Kennedy Town
Shop 5A, Luen Tak Apartments, 45 Smithfield, Kennedy Town
10:00 - 20:00
Tai Po
Shop 054A, Uptown Plaza, 9 Nam Wan Road, Wan Tau Tong, Tai Po
10:00 - 20:00
Tai Kok Tsui
Shop 138, Olympian City 2, 18 Hoi Ting Rd, Tai Kok Tsui
10:00 - 19:30
Tin Shui Wai
Shop L109, Tin Shui Shopping Centre, 9 Tin Shui Rd, Tin Shui Wai
10:00 - 19:30
Tin Shui Wai
Shop LG17, Tin Yiu Plaza ,Tin Wu Rd, Tin Shui Wai
10:00 - 19:30
Tin Shui Wai
Shop 232, Fortune Kingswood 1, 12-18 Tin Yan Rd, Tin Shui Wai
10:00 - 20:00
Tin Shui Wai
Shop 204, Town North, Tin Shui Wai
10:00 - 19:30
Tai Koo
061, 18 Tai Koo Shing Rd, Quarry Bay
9:30 - 19:30
Prince Edward
Hop Ying Commercial Centre, 755 Nathan Rd, Prince Edward
10:00 - 19:30
Tseung Kwan O
UG82-84, Metro City, 8 Yan King Rd, Tseung Kwan O
9:30 - 20:30
Tseung Kwan O
Shop 132, Tseung Kwan O Plaza, 1 Tong Tak St, Tseung Kwan O
10:00 - 19:30
Tseung Kwan O
Shop 248, TKO Spot, 2 Tong Ming St, Tseung Kwan O
9:30 - 19:30
Tseung Kwan O
Shop G95, Park Central, 9 Tong Tak St, Tseung Kwan O
10:00 - 19:30
Tseung Kwan O
E156, TKO Gateway, 2 Sheung Ning Rd, Tseung Kwan O
10:00 - 20:00
Tseung Kwan O
Shop 207, Choi Ming Shopping Centre, 1 Choi Ming St, Tseung Kwan O
10:00 - 20:00
Tsim Sha Tsui
LG7, iSQUARE, 63 Nathan Rd, Tsim Sha Tsui
10:00 - 19:30
Tsim Sha Tsui
B1, 3 Salisbury Rd, Tsim Sha Tsui
10:00 - 19:00
Tsim Sha Tsui
Shop 5, Hankow Apartments, 43 Hankow Rd, Tsim Sha Tsui
10:00 - 19:00
Tuen Mun
Shop 304, New Town Mansion Shopping Arcade, 2 Tuen Lee St, Tuen Mun
10:00 - 19:00
Tuen Mun
Shop 17, Trend Plaza South Wing, 2 Tuen Hop St, Tuen Mun
10:00 - 19:00
Tuen Mun
Shop 432, Leung King Plaza, 31 Tin King Rd, Tuen Mun
9:30 - 19:00
Tuen Mun
Shop 6-9, Tuen Mun Town Plaza Phase 2, 3 Tuen Lung St, Tuen Mun
10:00 - 19:30
Tuen Mun
Shop 109, Chelsea Heights Plaza, 1 Shek Pai Tau Path, Tuen Mun
10:00 - 19:30
Tuen Mun
R114, Butterfly Plaza, 1 Wu Chui Rd, Tuen Mun
9:30 - 19:30
Tuen Mun
Shop M66, V city, 83 Tuen Mun Heung Sze Wui Rd, San Hui
10:00 - 19:30
Tuen Mun
A150, 2A Tuen Mun Heung Sze Wui Rd, Tuen Mun
9:30 - 20:30
Mong Kok
Wu Sang House, 655 Nathan Rd, Mong Kok
10:00 - 19:30
Mong Kok
37 Sai Yee St, Mong Kok
10:00 - 19:00
Mong Kok
Lee Fung Building ,88-96 Argyle St, Mong Kok
10:00 - 19:30
Mong Kok
G08, Grand Plaza, 625 Nathan Rd, Mong Kok
10:00 - 19:00
Mong Kok
Shop 503C, MOKO, 193 Prince Edward Rd W, Mong Kok
10:00 - 19:00
Tung Chung
Shop 113, Yat Tung Shopping Centre, 8 Yat Tung St, Tung Chung
9:00 - 20:00
Tung Chung
Shop 9, Ying Tung Shopping Centre, 12 Ying Tung Rd, Tung Chung
10:00 - 19:30
Tung Chung
Shop 512, Citygate, 20 Tat Tung Rd, Lantau Island
10:00 - 19:30
Chai Wan
Shop 136, 233 Chai Wan Rd, Chai Wan
10:00 - 19:30
Lok Fu
Shop 2115, Lok Fu Place, 198 Junction Rd, Wang Tau Hom, Lok Fu
9:00 - 19:30
Sha Tin
Shop 29A, Shatin Plaza, Sha Tin
10:00 - 19:30
Sha Tin
Shop 102, Shui Chuen O Plaza, Shui Tsuen O Estate, Sha Tin
10:30 - 19:30
Sha Tin
Shop A214, New Town Plaza Phase 3, Sha Tin
10:00 - 19:30
Sha Tin
Shop 214, Sha Kok Plaza, Sha Kok Estate, 5 Sha Kok Rd, Sha Tin
9:30 - 19:30
Yau Tong
Shop 234, Domain, 38 Ko Chiu Rd, Yau Tong
10:00 - 20:30
Yau Ma Tei
G/F, Lai Kee Mansions, 521 Nathan Rd, Yau Ma Tei
10:00 - 19:30
Sham Shui Po
Shop 125, Dragon Centre, Yen Chow St, Sham Shui Po
10:00 - 19:30
Sham Shui Po
L2-67, V Walk, Sham Mong Rd, Sham Shui Po
10:30 - 19:00
Wan Chai
Shop 102, China Resources Building, 26 Harbour Rd, Wan Chai
Monday to Friday
10:00 - 19:00
Kowloon Bay
Shop G186, Amoy Plaza, 77 Ngau Tau Kok Rd, Kowloon Bay
10:00 - 20:00
Sau Mau Ping
Shop A42, On Tat Shopping Centre, On Sau Rd, Sau Mau Ping
10:30 - 19:30
Fan Ling
Shop A42, Flora Plaza, 88 Pak Wo Rd, Fanling
10:00 - 19:30
Fan Ling
Shop 23, Sheung Shui Town Centre Shopping Arcade, Town Centre, 9 Chi Cheung Road, Sheung Shui
10:00 - 19:30
Fan Ling
Shop 30A, Regentville Shopping Centre, 8 Wo Mun St, Fan Ling
10:00 - 20:00
Whampoa
Shop 7, Whampoa Garden Site 3, Whampoa
10:00 - 19:30
Mei Foo
Shop N69B&C, Mount Sterling Mall, Mei Foo
9:00 - 19:30
Fortress Hill
Shop 21, 260 King's Rd, Fortress Hill
10:00 - 19:30
Tsuen Wan
Shop 202-203, Tsuen Kam Centre Shopping Centre, 338 Castle Peak Rd, Tsuen Wan
10:00 - 19:30
Tsuen Wan
Shop 33, Citywalk, 1 Yeung Uk Rd, Tsuen Wan
10:00 - 19:30
Tsuen Wan
Shop 426, Tsuen Wan Plaza, 4-30 Tai Pa St, Tsuen Wan
10:30 - 20:00
Tsuen Wan
Shop G007, Kolour Tsuen Wan, 68 Chung On St, Tsuen Wan
9:00 - 19:30
Tsuen Wan
Shop 3032, Ocean Pride Mall, 100 Tai Ho Rd, Tsuen Wan
10:00 - 19:30
Lok Ma Chau
L1-L2, Lok Ma Chau Station, Tun Yu Rd, Mai Po
10:00 - 19:00
Kwai Chung
G/F, Shop 10, Shek Yam Shopping Centre, 120 Lei Muk Rd, Kwai Chung
9:00 - 19:00
Kwai Chung
Shop A103-104, Shek Lei Shopping Centre, 110 Tai Loong St, Shek Lei
10:00 - 20:00
Kwai Chung
Shop 427-428, Metroplaza, 223 Hing Fong Rd, Kwai Chung
10:00 - 20:30
Lam Tin
Shop 305,306 & 307A, Kai Tin Shopping Centre, 50 Kai Tin Rd, Lam Tin
10:00 - 20:00
Kwun Tong
Shop C, 37 Mut Wah Street, Kwun Tong
9:00 - 19:30
Causeway Bay
Shop 4-5, Causeway Bay Plaza 1, 489 Hennessy Rd, Causeway Bay
10:00 - 19:30
Causeway Bay
Shop 1905, Hang Lung Centre, 2-20 Paterson St, Causeway Bay
10:00 - 19:00
Diamond Hill
Shop 331, Plaza Hollywood, 3 Lung Poon St, Diamond Hill
10:00 - 20:00
Tsing Yi
Shop 214A, Cheung Fat Plaza, 6 Tam Kon Shan Rd, Tsing Yi
9:00 - 19:30
Tsing Yi
Shop 323A, Maritime Square 1, 33 Tsing King Rd, Tsing Yi
10:00 - 20:30
Aberdeen
Shop 6F, Aberdeen Centre 4, 2-4 Nam Ning St, Aberdeen
9:00 - 19:30
Ma On Shan
Shop 3B, Chung On Shopping Centre, 632 Sai Sha Rd, Ma On Shan
10:00 - 20:00
Ma On Shan
Shop 2317, MOSTown, 18 On Luk St, Ma On Shan
10:00 - 20:30
Wong Tai Sin
Shop N210, Temple Mall, 136 Ching Tak St, Wong Tai Sin
10:00 - 19:30
YATA
| District | Address | Open Hours |
| --- | --- | --- |
| Sha Tin | L1 & 2, New Town Plaza 3, 2 Shatin Centre Street, Shatin, Hong Kong | 11:00 - 20:00 |
| Tai Po | 1-2/F, Zone B, Tai Po Mega Mall, 8 On Pong Road, Tai Po, Hong Kong | 11:00 - 20:00 |
| Tsuen Wan | 2-4/F, Tsuen Wan Plaza, 4 Tai Pa Street, Tsuen Wan, Hong Kong | 11:00 - 20:00 |
| San Po Kong | LG, Mikiki, 638 Prince Edward Road East, San Po Kong, Hong Kong | 10:00 - 22:30 |
| Tuen Mun | G/F, V City, Tuen Mun Heung Sze Wui Road, Tuen Mun, Hong Kong | 09:00 - 22:00 |
| Mong Kok | L5, MOKO, 193 Prince Edward Road West, Mongkok, Hong Kong | 10:00 - 22:00 |
| Kwun Tong | LG, apm, 418 Kwun Tong Road, Kwun Tong, Hong Kong | 10:00 - 23:00 |
| Sai Wan | Hong Kong plaza, 188 Connaught Road West, Sai Wan, Hong Kong | 09:00 - 21:00 |
| Tseung Kwan O | L2, East Point City, 8 Chung Wa Road, Hang Hau, Tseung Kwan O | 09:00 - 22:30 |
| Yuen Long | L1 YOHO MALL I, Long Yat Road, Yuen Long | 10:00 - 22:00 |
| Kwai Fong | L4 Metroplaza, 223 Hing Fong Road, Kwai Fong | 10:00 - 22:00 |
| North Point | B1, Harbour North Phase 2, 123 Java Road, North Point | 09:00 - 21:00 |
Citistore
| District | Address | Open Hours |
| --- | --- | --- |
| Tsuen Wan | KOLOUR·Tsuen Wan II, TWTL 301, Tsuen Wan, N.T. | 10:30 - 21:00 |
| Yuen Long | 2-4/F, KOLOUR·Yuen Long, 1 Kau Yuk Road, YLTL 464, Yuen Long, N.T. | 10:30 - 20:00 |
| Ma On Shan | L2 & L3, MOSTown, 18 On Luk Street, Ma On Shan, NT | 10:30 - 20:00 |
| Tseung Kwan O | Level 2, MCP Central, Tseung Kwan O, Kowloon | 10:30 - 20:00 |
| Tai Kok Tsui | 1/F, Metro Harbour Plaza, 8 Fuk Lee Street, Tai Kok Tsui, Kowloon | 11:30 - 21:00 |
| Tuen Mun | L3 North Wing, Trend Plaza, Tuen Mun, N.T. | 10:30 - 20:00 |
Sincere
| District | Address | Open Hours |
| --- | --- | --- |
| Sheung Wan | Li Po Chun Chambers, 189 Des Voeux Road, Central | 10:00 - 20:00 |
| Mong Kok | B/F, UG-3/F, King Wah Centre, Mong Kok (Mong Kok MTR Station Exit E2) | 11:00 - 21:00 |
| Sham Shui Po | L1-3 Dragon Centre, Sham Shui Po | 10:30 - 21:00 |
| Tsuen Wan | G18, Citywalk 2, Tsuen Wan | 11:00 - 21:00 |
| Yau Tong | 1/F, Domain, Yau Tong | 11:00 - 21:00 |
APITA
| District | Address | Open Hours |
| --- | --- | --- |
| APITA Tai Koo | GF & BF, Cityplaza2, 18 Taikoo Shing Rd., Quarry Bay, Hong Kong | 10:00 - 21:00 |
AEON
| District | Address | Open Hours |
| --- | --- | --- |
| Kornhill | Kornhill Plaza (South), 2 Kornhill Road, Quarry Bay | 08:30 - 22:30 |
| Whampoa | G/F & Basement One, Site 5 & 6, Wonderful Worlds of Whampoa | 08:30 - 22:30 |
| Kowloon Bay | Shop 1-23, 35, 58, Floor 1, MegaBox, 38 Wang Chiu Road, Kowloon Bay, Hong Kong | 10:00 - 22:30 |
| Tseung Kwan O | All those Shops Nos. 2-021 - 2-066 and portion of Common Corridor on Level 2 of the Commercial Portion of Tseung Kwan O Plaza, No. 1 Tong Tak Street, Tseung Kwan O | 08:30 - 22:30 |
| Tuen Mun | G/F, UG/F & 1/F, Phase1, Tuen Mun Town Plaza, 1 Tuen Shun Street, Tuen Mun | 08:30 - 22:30 |
FRESH
| District | Address | Open Hours |
| --- | --- | --- |
| Lohas Park | Shop 201-201A, The Lohas, 1 Lohas Park Road, Tseung Kwan O | 9:00 - 23:00 |
| Taikoo | M/F, Kornhill Plaza North, Taikoo | 8:00 - 23:00 |
City Super
| District | Address | Open Hours |
| --- | --- | --- |
| Causeway Bay | Times Square Basement 1, Causeway Bay | 11:00 - 8:00 |
| Tsim Sha Tsui | Gateway Arcade Level 3, Shop 3001, Harbour City, Tsim Sha Tsui | 11:00 - 8:00 |
| Shatin | New Town Plaza 1 Level 2, Shops 204-214, Shatin | 11:00 - 8:00 |
UNY
| District | Address | Open Hours |
| --- | --- | --- |
| UNY Lok Fu | Level 2, Lok Fu Place, Lok Fu Estate, No.198 Junction Road, Kowloon, Hong Kong | 09:30 - 22:00 |
| UNY Yuen Long | B 1/F, Kolour Yuen Long, 1 Kau Yuk Road, Yuen Long, NT | 09:00 - 21:00 |
LOG-ON
District
Address
Open Hours
Causeway Bay
Times Square Basement 1, Causeway Bay
Sun to Thu 10:30-22:00 Fri,
Sat and Eve of Public Holidays 10:30-23:00
Causeway Bay
Shops F-10 - F-16, Level 1, 11-19 Great George Street, Fashion Walk, Causeway Bay
Sun to Thu 11:00-22:00 Fri,
Sat and Eve of Public Holidays 11:00-22:30
Tai Koo
Cityplaza Level 2, Shops 260-261, Tai Koo
Sun to Thu 10:30-22:00 Fri, Sat and Public Holidays 10:00-22:00
Tsim Sha Tsui
Shop 3002, Level 3, Gateway Arcade
Sun to Thu 10:00-22:00 Fri,
Sat and Eve of Public Holidays 10:00-22:30
Mong Kok
Langham Place Level 6, Shops 01&23, Mong Kok
Sun to Thu 11:00-22:00 Fri,
Sat and Eve of Public Holidays 11:00-22:30
Kowloon Tong
Festival Walk UG Level, Shop 01, Kowloon Tong
11:00-22:00
Kwun Tong
apm Level 1, Shop 21, Kwun Tong
Sun to Thu 11:00-22:00 Fri,
Sat and Eve of Public Holidays 11:00-22:30
Shatin
Shop A202, Level 2, New Town Plaza 3, 2-8 Sha Tin Centre Street, Shatin
Sun to Thu 10:30-22:00 Fri,
Sat and Eve of Public Holidays 10:30-22:30
Tai Po
Tai Po Mega Mall B Level 2, Shops 273-275, Tai Po
11:00-22:00
Kwai Fong
Metroplaza Level B1, Shop 01, Kwai Fong
Sun to Thu 10:30-22:00 Fri,
Sat and Eve of Public Holidays 10:30-22:30
Tuen Mun
tmtplaza Phase 1 Level 2, Shop 2251, Tuen Mun
11:00-22:00
Tseung Kwan O
PopCorn 1, Ground Floor, Shop G24, Tseung Kwan O
11:00-22:00
Admiralty
Shop C03, LAB Concept, Queensway Plaza, 93 Queensway, Hong Kong
10:00-21:00